We Provide The Best IPTV Service
WHY SIGN UP FOR OUR IPTV SERVICE?
You will have access to the most Stable, Reliable and Quality IPTV streams all packages offer a greater number of Channels and VOD content than our competitors. Most services are available in Multiple formats, MAC based URL Portal (MAG), M3U Playlist File and String, New Stalker Software, Firestick, Android Tv Box, Smart STB and Nvidia Shield. We offer the most UHD and FHD channels andPremium content including Adult.
Free phone support for those that need help setting up their device, reoccurring billing is also available as an option.
Our services are meant for Educational Purposes and not intended to replace Cable or Satellite Tv programing.
PRIVATE SERVER NFPS PAPIAO
Disclaimer
ELITE IPTV respects the rights of others and prohibits the use of referenced material for any purposes other than for what it was intended for (where such use is lawful and free of civil liability or other constraints) and in such circumstances where possession of such material may have any adverse financial, prejudicial, or any other effect on any third party. IPTV Digital TV channels and video content is being provided without any liability from ELITE IPTV regarding copyrights.
ELITE IPTV service is a list of streaming transport service with media originating from external websites and internet sources. Channel availability may vary and change from time to time, as this is completely outside our control. This is not a source host or any other web media server. It is recommended to subscribe to an unlimited internet connection provider with high speed download capacity to avoid any unpleasant charges or fees on over usage (slow internet, bills, etc.). A minimum internet connection speed of 10-Mbps download speed is required to be able to have access and stream any of the services offered. We accept no liability for any damage caused to your system or hardware by engaging, participating, or using the information or content provided by the Servers.
ELITE IPTV is not responsible for any legal action taken against an individual, group, or company for usage of the content or information on this website. All services offered by ELITE IPTV is for educational purposes only and is not intended to replace your Cable or Satellite TV programming.
Refund Policy
Refund:
Once your Device is connected to the servers your programming time has began. NO REFUNDS WILL BE ISSUED
Compatible Devices: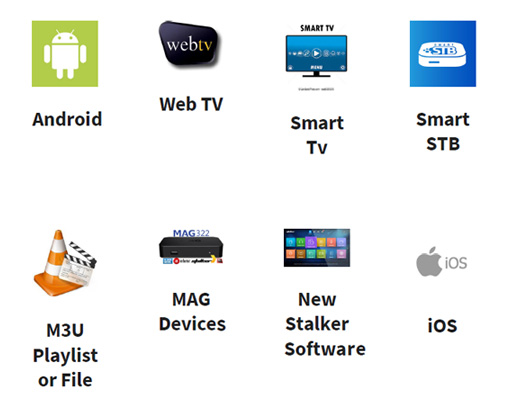 OUR PLANS
We are an Independent Sales Organization, we do not HOST or Distribute any TV broadcast. We simply supply links to servers.
If using a Firestick please contact us for the Firestick Application URL which can be downloaded via the Downloader
Latino TV
Latino Tv – over 600 Latin America and USA Channels, this package is for our Valued Latino Community.  Monthly service with or without automatic renewals invoicing.
Compatible with MAG 420 W1
$15/ month
Premium TV
With over 3600 channels we offer the largest International Content with Large Indian Content and specialty Countries Philippines, Vietnamese, Sports domestic and international and much more.
$10/ month
Vivid TV
Vivid Tv – over 3000 International Channels large Arabic, Spanish, and USA content many other countries included monthly service
Compatible with MAG 420 W1
$7/ month
Zon TV
Zon Tv – over 3500 International Channels in UHD over 200 USA Regional Channels, over 200 International Sports Channels
Compatible with MAG 420 W1
$12/ month
Private Server NFPS Papiao
The original and oldest IPTV service.  Over 1000 International Content.  Europe, USA, Canada, Spanish, Sports all 4 Major
$70/ year